Tuesday, March 31, 2009
Posted by

rokok black
Take a little glimpse inside Terribly Girly photo studios in this clip from Biz Buzz Tour!


CLICK HERE
to watch!
Wednesday, March 11, 2009
Posted by

rokok black
Sooo..everyone loves the circus and since I've had many recent requests for this particular theme, we've set up a circus themed shoot running through April!
Ladies will get a fun chance to get all dolled up and frolic in really cool costumes among a variety of ultra cool circus sets that the lovely Heather "Inga" will be whippin' up!
We're planning on having 3 different sets for gals to choose from and I'll have a costume/wardrobe stylist and creator catering to every gals wardrobe needs!
Think super sexy, super fun!
Contact info@terriblygirly.com for more info. and to secure your spot!
Cheers!
Miss V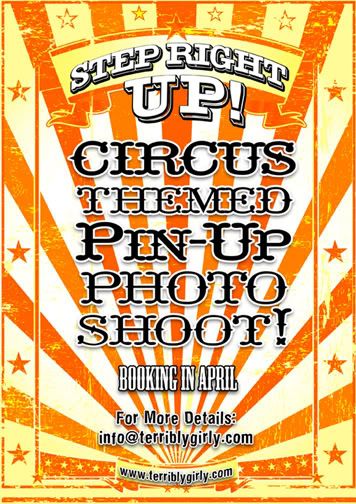 Saturday, March 7, 2009
Posted by

rokok black
Hey there everyone! We're currently casting a military wife/girlfriend for a reality tv pilot to be filmed in March!
Just passing along the information in the event that any of you might be interested or know any local ladies that might be.
Please DO NOT REPLY to this email as anyone that is interested will deal with the producers directly.
Thanks in advance and best to all!!
Cheers!

Janette Valentine


www.terriblygirly.com



------------------------------



Military wife or girlfriend? We want YOU!!



Ever thought about posing as a pin-up in a

photo session

for your sweetie?

Reality TV pilot shooting March 25th-27th casting military wives with spouses who are serving oversees.

Full hair, make up and wardrobe will be provided for shoot. Our glam squad will transform you into a bombshell lickety-split!

Must be eager to share history of relationship and tell us why you want to do this photo shoot. A chatty cathy, if you will!

Glamorization and copies of fantastic pictures taken by a premiere pin-up photographer in exchange for participation!



MUST BE:


Age: 25 - 35
Able to prove Military/marriage status
Local to

South Florida


Able to shoot between March 25th-27th
Eager to do the shoot!

Please submit a photo and tell us why you want to do this shoot! Indulge us!!

madcloutproductions@yahoo.com
------------------------------


Do you have a story of survival, heroic effort or personal triumph that you feel should be shared with others?


Have you bravely overcome a near-death medical illness? Are you an outstanding citizen of the community who has given your all to others who are less fortunate? Have you achieved a difficult personal goal that should be applauded by your peers? We want to hear about it!!!

Reality TV pilot shooting March 26th-27th casting ladies with uplifting stories of survival, contribution to society and/or personal triumphs.

Full hair, make up and wardrobe will be provided for shoot. Our glam squad will transform you into a bombshell lickety-split!

Must be eager to share your story of survival, contribution to society and/or personal triumph and tell us WHY you want to do this photo shoot.
Be a chatty cathy, if you will!

Glamorization and copies of fantastic pictures taken by a premiere pin-up photographer in exchange for participation! A four hundred dollar value. What a deal, eh?



MUST BE:


Age: 21 - 35
Able to prove validity of story (We will research you, so NO fibbing!!)
Local to

South Florida

OR willing to travel on YOUR OWN DIME
Available to shoot on either March 26th or March 27th
Eager to do the shoot!

Please submit a photo and tell us why you want to do this shoot!
Again, PLEASE include photo and tell us WHY you want to do this shoot!
Indulge us!!

madcloutproductions@yahoo.com